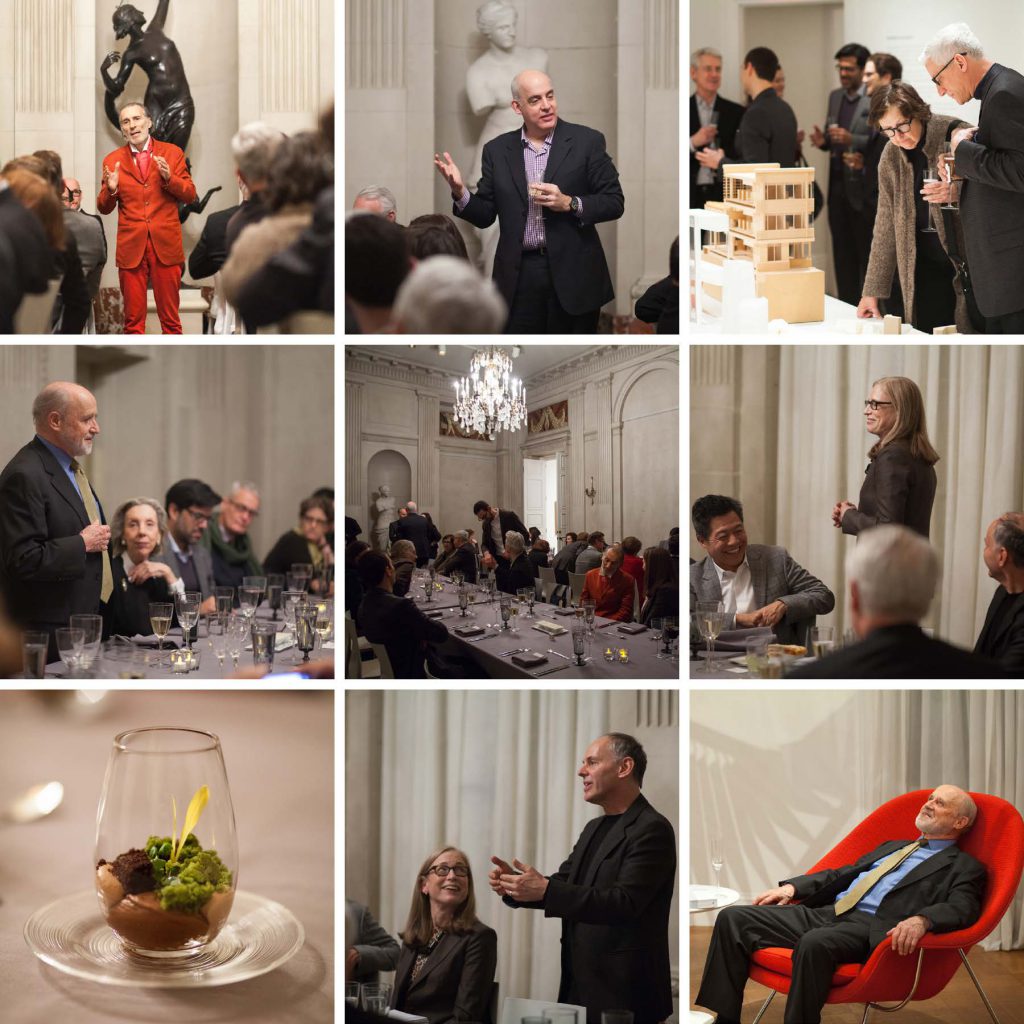 Creating a Monograph That's Not Monotonous, Part 2
Continuing his look at the creation of an architectural monograph and managing a multi-media publicity campaign, Brien McDaniel, Communications Director, Senior Associate of FXFOWLE, reveals the details of publicizing Reveal Filter Evolve Effect (ORO Editions, 2015), the latest publication from FXFOWLE.
A select number of copies of Reveal Filter Evolve Effect (representing about 300-350 of our contacts in New York City) were packaged in custom tote bags and hand-delivered by messenger. All of these bags included a personal note from a member of the FXFOWLE leadership. The remaining 1,200 monographs were mailed via a specially designed box, with or without personal notes. Only once we knew that everyone on our list had received a copy of the book, did we publicly announce that the monograph was published.
Why did we reverse the typical sequence of events for the book launch? We wanted to get the biggest bang for our buck—meaning no one really knew we were publishing a book and we wanted harness that element of surprise. This was achieved via an e-blast to our entire database and a press release (yes, this form of communication is not yet dead). To raise the monograph's visibility across all of our social media channels and to give it an identity at all of our events, we created a logo inspired by the book's design.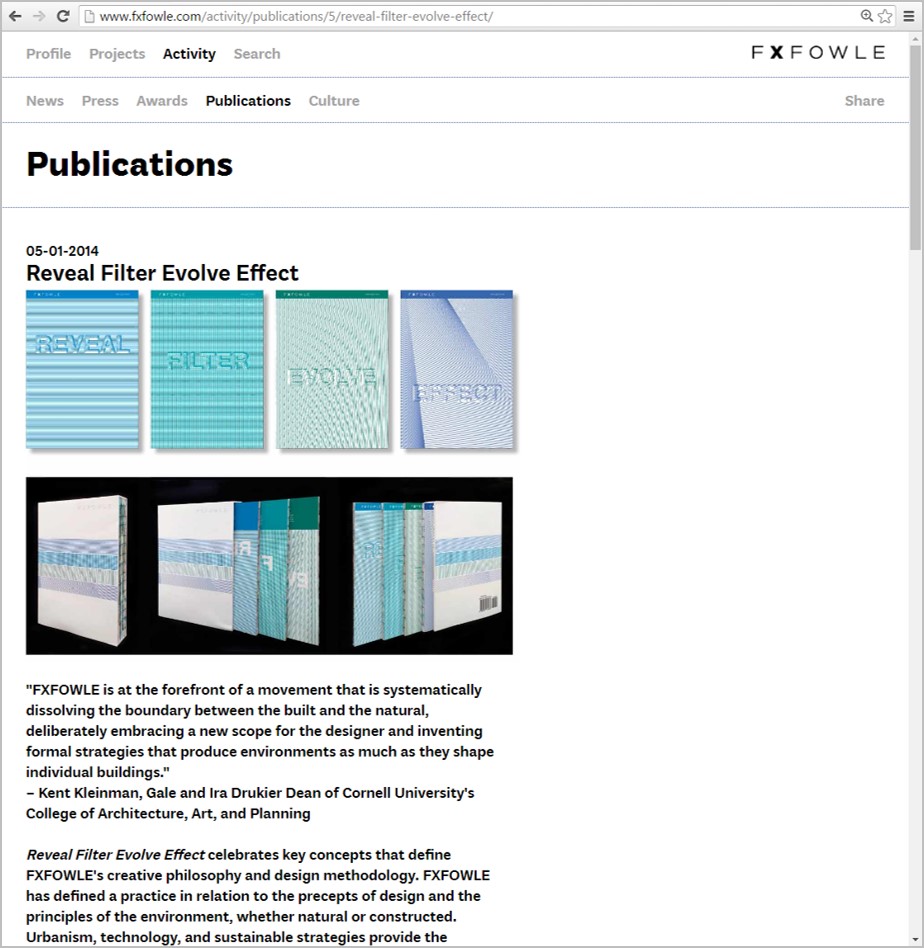 Every piece of communication about the launch—whether a press release, an e-blast, or social media post—included a link to an announcement of the monograph on the FXFOWLE website. This not only increased traffic to our site over the course of a year, but it also gave us the opportunity to tailor our online message, highlighting the firm's culture and services. The announcement was featured on all seven of the website's landing pages and on the News page. Reveal Filter Evolve Effect also lives in its entirety in ISSUU format on the Profile and Publications pages. However, we did wait to upload the book until after the launch was completed—a period of almost nine months.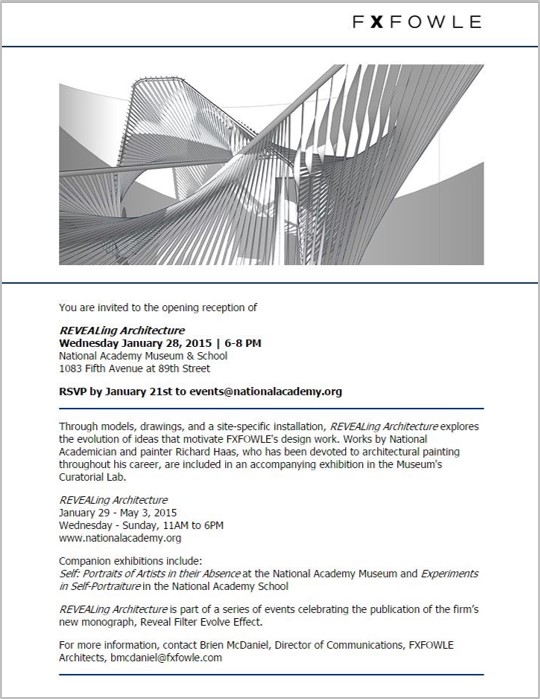 As part of the launch promotion, we developed a series of panel discussions (open to the public, as well as invited guests) to connect with our audience in fresh ways. These talks also posed strategic opportunities for business development, press relations, and to initiate new partnerships or strengthen existing relationships. Such was the case with the AIA|DC Chapter, the National Academy Museum & School, and Open House New York. We teamed with these organizations to host events and programs, which helped us reach new, diverse groups.
For example, our exhibition at the National Academy gave us a chance to share with our audience a unique firm initiative over several months. Throughout the run of the exhibit, FXFOWLE partners conducted personal tours of the show for colleagues, clients, and potential clients, allowing them to enhance existing relationships as well as cultivate new contacts by presenting a personalized, inside perspective on the firm's work and mission. An invitation-only dinner was staged at the gallery, making for a truly extraordinary evening.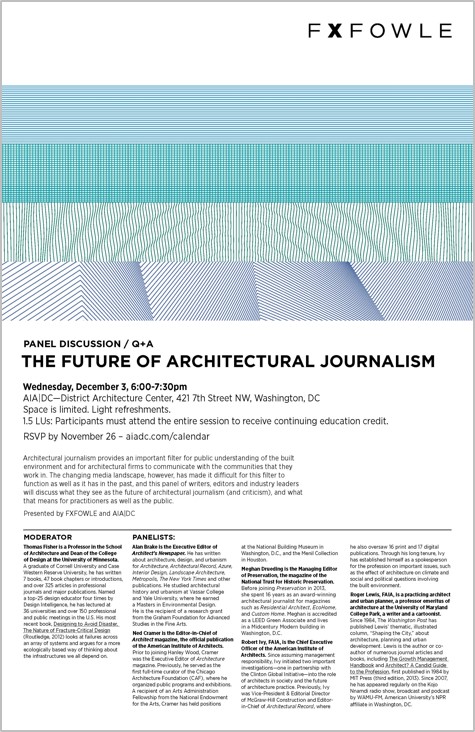 We also collaborated with leading publications, such as Architect, Landscape Architecture Magazine, Preservation, and The Architect's Newspaper, in innovative ways. While this didn't generate any major coverage (nor was that expected), the experience served to deepen the editors' knowledge of FXFOWLE and the culture of the firm.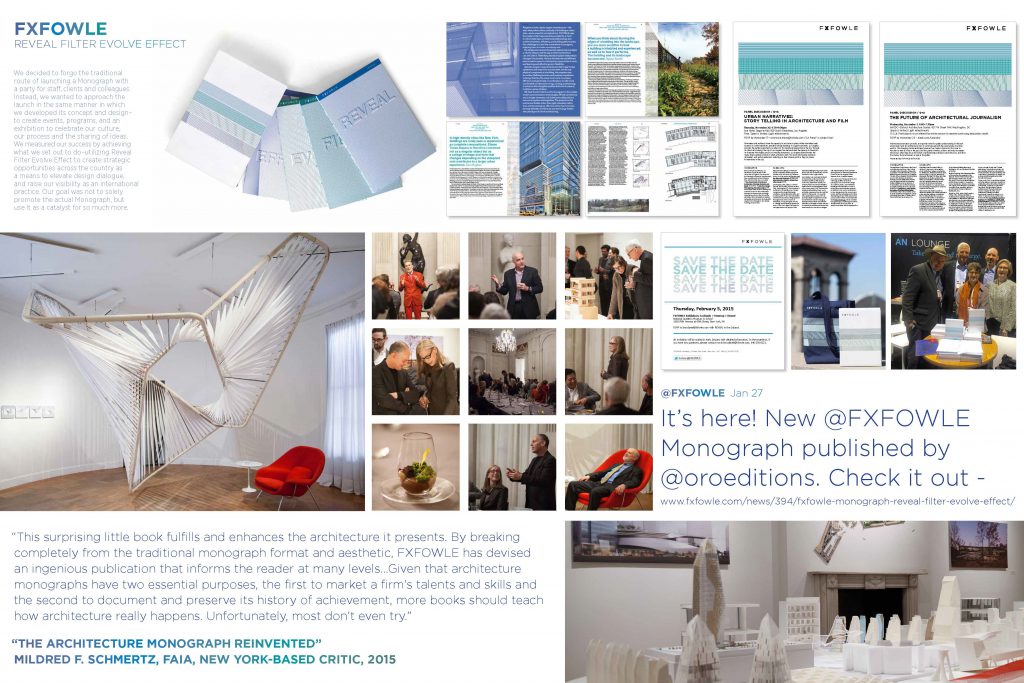 The results of our campaign were a revelation, and truly gratifying. We had overwhelmingly positive responses from all corners—even though it didn't translate into work (which we knew it wouldn't). We developed new partnerships; expanded our press coverage to include art, book publishing, and general publications; and received not one, but two reviews of Reveal Filter Evolve Effect. We also saw significant spikes in website traffic each time we posted news about the monograph; overall, our social media traffic increased more than 20% for 2015. Something we didn't think about at the beginning of our planning was that preparing for the book launch was the perfect opportunity to update FXFOWLE's contact database; after doing that, our bounce-back rate dropped from 20% to 2% within three months. And finally, the monograph drove internal conversations about our brand, from project reviews and presentations to discussions about our website and marketing messages.
While creating a monograph and orchestrating a year-long multi-media campaign is certain to raise the visibility of your brand, there are plenty of ways ways to achieve that goal. Here are a few ideas—adaptable for any scale or budget—about how your firm can connect with targeted audiences:
If you have space in your office for an exhibit (it doesn't have to be a large area), consider curating an art show highlighting your in-house talent; many architects sketch, paint, or are passionate photographers. You could also feature study models and drawings to pull back the proverbial curtain on your firm's working process. Plan an opening reception and invite key contacts to build one-to-one relationships in a setting outside of meetings and industry-related events.
Team up with your AIA chapter, AEC colleagues, or even a local publication to self-produce a topical event or panel discussion. Don't forget that your clients and consultants can be partners, too.
Seize the opportunity presented by a holiday, or a project-oriented or company milestone, to create a one-of-a-kind announcement. Because we're all saturated with emails, e-blasts, and other electronic input, you might consider using a hard-copy format in order to stand out. There are many online self-publishing companies (such as Lulu and Blurb) that offer inventive products and designs to promote your brand at any price point.
If none of these strike a chord with you, be creative. And despite their ubiquity, e-blasts are still a great vehicle to connect quickly with your audiences…just make sure all of the information on your website is current and correct before you hit that Send button!