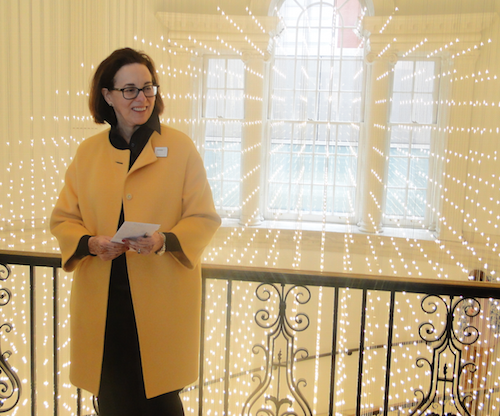 Marching Forward
Welcome to March, which brings us unpredictable weather, a seemingly endless college basketball tournament, and Women's History month. We've asked several luminaries in the AEC fields to share why they pursued a career in these industries. This week, we're honored to feature Cynthia Kracauer, Managing Director of the Center for Architecture and the festival director for Archtober: Architecture and Design Month NYC.
What drew me to the practice of architecture?

"Flow" is the short answer.

My father was in the Navy and we moved every eighteen months until I was ten. From place to place I carried with me a pocket-sized cadre of fabric creatures, mice and squirrels, that I made by cutting fingers off my white gloves and snipping fluffs of aqua fur from Mother's shearling bedroom slippers. I stuffed the fingers with cotton, made felt feet and ears and whiskered the faces with thread pulled through the pointed noses. Blanche, the white mouse, and Sibyll, the aqua squirrel, were my best friends and I created elaborate houses for them from cadged shirt cardboards and discarded packing boxes. Countless solitary hours were spent gluing, cutting, fitting, and fantasizing about the special tree dwelling that had an elevator with a pulley made from a wooden spool of Coats & Clark thread. When I was working in that fantasy world, I experienced joy.

I remembered that joy when I signed up for Architecture 101 in my first semester in college. Bob Geddes, FAIA, the Dean of the School of Architecture at Princeton, taught the course. It was very popular, perhaps because it had the reputation of being fun. Bob was a great lecturer, and there was a good bit of wandering around looking at buildings. Doodling was encouraged. The class also exposed students to life in the studio, which looked a whole lot like bunches of kids sitting around making mouse houses. I was hooked.
Cynthia Phifer Kracauer, AIA, has been the Managing Director of the Center for Architecture since 2006, and festival director for Archtober: Architecture and Design Month NYC, now in its sixth year. She was previously a partner at Butler Rogers Baskett, and from 1989 to 2005 worked at Swanke Hayden Cornell. After graduating from Princeton (AB 1975, M. Arch 1979), she worked for Philip Johnson, held faculty appointments at the University of Virginia, NJIT, and her alma mater.