Summer Haus Art Guide: 8 Outdoor Exhibitions to See Before the End of Summer
Part 3 of Summer Haus is a curated guide of outdoor art exhibits around the globe. Bid farewell to the remaining weeks of summer, soak up the golden sunlight, while checking out these outdoor art exhibitions.
Inside Out, Philadelphia
(Courtesy of Detroit Institute of Arts)
Inside Out, an exhibition organized by the Philadelphia Museum of Art, Detroit Institute of Art, Akron Art Museum, and the Knight Foundation, brings high quality reproductions of famous artworks from their collections to outdoor areas such as bike paths, residential neighborhoods, and parks in Pennsylvania and other states.
Please Touch the Art, Brooklyn, New York
(Courtesy of James Ewing)
New York's Public Art Fund invited Danish artist Jeppe Hein to create an installation of fountains, mirrors, and playful benches to populate Brooklyn Bridge Park. Mirror Labyrinth NY, made with vertical planks of mirrored-polished steel arranged in three radical arcs, the alternating rhythm and uneven heights of the steel elements echo the Manhattan skyline.
Kapoor Versailles, Versailles, France 
(Courtesy of Anish Kapoor)
Sectional Body Preparing for Monadic Singularity, is one of six pieces at the historic French site. Measuring 23 feet high, the black-and-red cube with a futuristic PVC interior is tucked amid the foliage in Versailles's mazelike hedges. Artist, Anish Kapoor, states that, "a work of art doesn't exist alone but through its viewer." The visitor at Versailles will experience the dualities of artist's work: heaven, earth, visible, invisible, inside, outside, shadow, light.
Dismaland, Somerset, England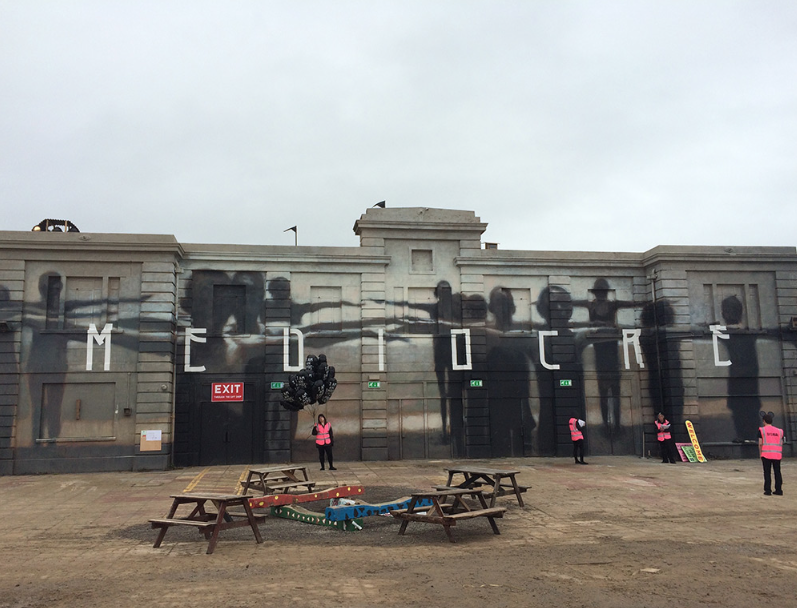 (Courtesy of Anish Kapoor)
Bansky's Dismaland is a bemusement park where you can escape from mindless escapism. Hidden inside the walls of this derelict seaside resort, you will find an assortment of bizarre and beautiful artworks. Banksy is showing 10 artworks of his own with artwork from 58 global artists, including Damien Hirst, Jenny Holzer, Jimmy Cauty, Bill Barminski, Caitlin Cherry, Polly Morgan, Josh Keyes, Mike Ross, David Shrigley, Bäst, and Espo.
Jaume Plensa: Human Landscape, Nashville, Tennessee
(Courtesy of Cheekwood)
Spanish artist Jaume Plensa has installed the two ethereal visages pictured above along with seven other large-scale sculptures at the historic Nashville estate Cheekwood. Jaume Plensa creates sculptures and installations that unify individuals through connections of spirituality, the body, and collective memory.
Swing Time, Boston, Massachusetts 
(Courtesy of Justin Saglio for the Boston Globe)
Part of the Massachusetts Convention Center Authority 's initiative to create the first interactive public space in Boston, Swing Time, designed by Eric Howeler and Meejin Yoon of Howeler and Yoon Architecture, is an art installation of 20 glowing oval swings containing LED lights that activate based on the swings' movement.
Lynda Benglis: Water Sources, New Windsor, New York
(Courtesy of Lynda Benglis)
American artist Lynda Benglis has installed a series of sculptures and fountains at New York's 500-acre Storm King Art Center. The North South East West fountains, shown here, are made from cast bronze and steel.
 Salt, Sandhornøya, Norway
(Courtesy of SALT)
SALT is a nomadic initiative celebrating the environment, art, and culture of the Artic region. The 150 meter long Artic Pyramid designed by Rintala Eggertsson Architects and artist Joar Nango will host art from Chinese artist Yang Fudong.