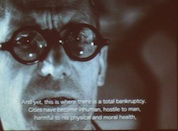 Le Corbusier at MOMA
Our own Dr. Tami Hausman served as guest blogger for FXFOWLE's blog. Tami's post, Surveying the Landscape of Le Corbusier, covers Le Corbusier: An Atlas of Modern Landscapes, which opens on June 15 at the Museum of Modern Art. It is the first-ever MOMA show on the Swiss-born architect, and it narrates his life and career through a variety of media. Some elements of the show are expected, and others less so — like the plaster cast of a city plan he made in the sand on Long Island. As Tami notes in her post, the show reveals a man in love with cities throughout his life, and his endless ideas about redesigning cities, which sometimes worked better on the page than in practice.
Check out the full post at FXFOWLE!