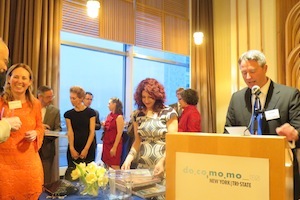 Celebrating Alvar Aalto
Over 150 guests attended an evening in support of DOCOMOMO New York/Tri-State last night. The event commemorated 50 years of the Edgar Kaufmann Jr. Conference Center, designed by iconic Finnish architect Alvar Aalto. A few lucky guests took home silent auction and raffle prizes including a private tour of Philip Johnson's Glass House, Modern monographs from Rizzoli and The Monacelli Press, a Classic Harbor Line tour of Manhattan by boat, Aalto-designed glass vases by iitala, and a work by pre-eminent American architectural photographer Ezra Stoller, whose images helped define the Modern era.
Pratt Institute professor and Aalto scholar Michael Trencher gave a short address on the room's features, explaining how Aalto's characteristic style incorporates natural elements to soften interior spaces. From the room's balcony, guests enjoyed panoramic views of the Long Island City skyline. Dr. Tami Hausman and Dr. Meredith Bzdak, Partner at Mills + Schnoering Architects, co-chaired the event.
To see more photos from the event, click here.